General Conference 2012 Update Archives 1

Kentucky AC lay delegate Jan Brown-Thompson (right) makes a point during a "Holy Conversation" session
at the 2012 General Conference. From left are Michael Huber and Samuel Powers.
A UMNS photo by Mike DuBose.
Thursday, April 26
On Thursday, General Conference delegates began working their way through the 1,200+ petitions sent to the quadrennial gathering.
 All petitions are first considered in one of 13 legislative committees. Those committees broke into subcommittees April 26 to begin considering each proposed change to the Book of Discipline or the Book of Resolutions.
Newly elected committee chairs and subcommittee chairs helped the groups prioritize their work, since petitions not acted upon by the evening of April 28 may not be considered at all, unless 20 delegates pull the petitions out of the virtual wastebasket.
All legislative committees will present their recommendations to plenary sessions, beginning Monday, April 30.
After meeting in legislative committees on Thursday morning, some delegates attended a Service of Holy Communion on a Tampa Bay walkway. Others attended luncheons sponsored by various organizations, and some paused to hear choirs singing in the lobby of the convention center.
(Watch video of evening plenary and worship.)
Later delegates gathered for the only plenary session of the day, where nominations were submitted for University Senate, Judicial Council and General Conference Secretary.
The General Conference is responsible for electing four of the 25 members of the denomination's University Senate. Prior to taking nominations from the floor, the Council of Bishops selects a slate of nominees from a pool of chief executive officers of United Methodist-related educational institutions. The bishop's pick are Jerry Campbell, Cameron West, Trudie Kibbe Reed, John H. Russell, Nathaniel Bishop and Jan Love. Elected from other education-related positions are Lallene Rector, Tanya Linn Bennett, Jeannie Trevino-Teddle, Robert Hill, Ester Chung-Kim and Kah-Jin Jeffrey Kuan. About 20 people were nominated from the floor. One of the names brought forth from the floor was Dr. Bill Arnold, Professor of Old Testament Interpretation at Asbury Theological Seminary and a clergy delegate from the Kentucky Conference.
The Council of Bishops has nominated 12 persons – six clergy and six lay – to fill two open positions in each category for the nine-member Judicial Council, the denomination's top court. Clergy nominees are John Harnish, Dennis Blackwell, Tim Bruster, Jane Tews, Susan Henry-Crowe and Oyvind Helliesen. Lay nominees are Beth Capen, Randall Miller, Janey Lutz, Oswald Tweh, Deanell Tacha and Warren Plowden. Nominations also were taken from the floor during the Thursday evening plenary session. Those nominees are Kibomba Kiboko, Robert L. Lockabie, Jr., Curt Glasgow, Mark Dickens, Solomon Christian, Reynaldo Abdon, Laura Esto and Carl Baumgardner.
Fitzgerald Reist was nominated by the Council of Bishops to continue as secretary of the General Conference. There was no nomination from the floor for that position.
Elections for both the University Senate and the Judicial Council are scheduled for Monday morning.
As the evening plenary came to a close, a "Point of Personal Privilege" turned into a time of protest. The presiding bishop, Bishop Robert Hayes, Jr., shut down the protest, pointing out that the protestors were "out of order." Mark Miller, a New Jersey delegate, then asked Bishop Hayes to pray for the protestors. His request was granted, and a prayer for healing and reconciliation was said.
Healing also was theme of the worship service that followed. The McFarlin Memorial UMC Choirs led those gathered in singing "There is a Balm in Gilead." Bishop Robert T. Hoshibata, Oregon-Idaho Annual Conference, preached on healing and what it takes to have a healthy soul. Bishop Hoshibata cautioned us to "maintain a healthy soul, maintain a healthy spirit," reminding us that John Wesley often asked others, "How is it with your soul?"
Bishop Hoshibata pointed out that we all stand in need of healing and that no matter what you may have done you are still a good person. He ended his sermon by telling us that "when we become aware of another person's suffering, God calls you to become a part of their healing."

Krin Ali (left), Denver, Colo., listens while co-presenter Eva Algodon-Bohol, Cebu, Philippines,
gives a part of the Young People's Address by video. A UMNS photo by Mike DuBose.
Wednesday, April 25
Day 2 of the 2012 General Conference began with the Episcopal Address by Bishop Peter Weaver of the Boston Episcopal Area. Bishop Weaver charged us to be a part of what he called a "Resurrection Revolution." He told the story of five displaced African teenagers who were baptized in a New Hampshire river. The teens, driven from their homes by tribal warfare, were resettled in the New Hampshire area. As Bishop Weaver recounted, "There, half a world away from their homes and churches in the Congo, another vital United Methodist congregation…welcomed these immigrants." Bishop Weaver then brought four of the young men onstage as the delegates and bishops gave them a standing ovation.  Bishop Weaver also pointed out that he felt that too many of our churches have "swapped the 'Let's Go' of the Great Commission for the status quo of the no mission" and challenged the delegates to ask "how will this legislation enable making disciples of Jesus Christ" as they do the work of the General Conference. Bishop Weaver concluded his address by kneeling and leading the delegates in John Wesley's Covenant Prayer. (Watch video of morning session.)
The second address of the morning was delivered by Betty Swipe Katiyo, who is the first person from Africa to deliver the Laity Address at a General Conference.  Katiyo, who attends a church that seats 1000 people, talked about how people are "so hungry for the word of God" that they sit outside just to be a part of the worship.
Katiyo was joined by Dr. Steve Furr from Jackson, Ala., and Amory Peck from Bellingham, Wash., in delivering the address, which emphasized the mission to make disciples. All three speakers began with the words "by the grace of God, I am a disciple of Jesus Christ."
Katiyo used the image of a symphony to illustrate the partnership between laity and clergy. "A conductor of an orchestra does not make a sound — instead enlivens others to be effective. Laity are the choir who should be making the noise, and clergy are the conductors. And guess what? To succeed, we need each other!
The Young People's Address was aided by technology. While Krin Ali spoke live to the delegation, fellow presenter Joy Eva Algodon-Bohol made her appearance via videotape. Together the two young United Methodists issued a challenge to their brothers and sisters around the world to be "Charged. Rooted. United." Algodon-Bohol, from Cebu, Philippines, was denied a visa and could not attend the conference in person, so she gave her speech on giant screens while Ali stood alone on the stage.
Algodon-Bohol, president of the National United Methodist Youth Fellowship in the Philippines, said taking a leadership role in the church was not easy. Her father was not supportive because she had to resign from a good job to be able to participate fully in the church. She said she felt "charged" by God. "At 14 I was elected secretary, at 16 I was elected to the annual conference, and at 20, I became involved on a national level," she said.
Ali and Algodon-Bohol punctuated their remarks with those three words: charged, rooted, and united.
Ali said he was rooted in his faith: "The Apostle Paul says, 'Be not conformed to this world, but be transformed by the renewing of your mind.' A true disciple finds that he or she will be transformed through their faith." God's love unites us all, said Ali. "We must overcome our age differences. I look forward to a cloud of young people at the next General Conference."
After breaking for lunch the delegates engaged in an afternoon of "Holy Conversations" and legislative meetings.  In a session that took 90 minutes longer than the scheduled time allotted, delegates approved several changes in the rules by which they will operate over the next eight days.
Some debate focused on whether various committees should be based on geographical areas or on a proportional basis. Existing rules called for one representative from each of five U.S. jurisdictions and one each from Africa, Asia and Europe. Noting the increased costs involved, delegates voted down efforts to provide additional members from larger U.S. jurisdictions and central conferences.
The Rules Committee also proposed that "any legislation not acted upon by the legislative committee at the time of the Saturday evening adjournment shall remain unfinished." Judy Nutter, a delegate from West Virginia, argued that the new rule was not keeping faith with people who had submitted proposals, but delegates agreed to retain the rule knowing that it only takes 20 delegates to bring any petition to the full body.
The evening worship focused on revitalizing our churches and keeping young people engaged in the church. Four proposals for revitalizing churches were put forth:
1. A ten-year focus on creating and sustaining vital congregations.
2. Annual conferences will have the flexibility to organize themselves to create and sustain vital congregations.
3. Create a more nimble, responsive and streamlined structure for General Boards and Agencies.
4. Invest in leadership to raise up next generation of Church leaders.
Bishop James King, South Georgia Area bishop, discussed what we need to do as a church to be vital congregations. He reminded us that "once we are in, it is our job to bring others in." As Bishop King stated, "There is no shortage of people in the world; there is a shortage of love" and we must invite all to the body of Christ. Whatever language you speak, you must "Invite, Invite, Invite." Bishop King punctuated each "Invite" by also repeating it in other languages native to our delegates. He ended his sermon by leaving us with the acronym REACH, telling us that to be vital church means that we have to Receive, Educate, Apply, Care and Hook all people.

(Watch video of evening worship.)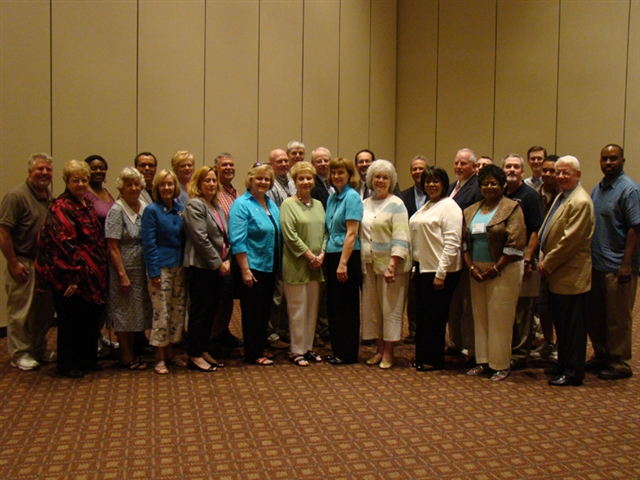 Kentucky's General & Jurisdictional Conference Delegation
Tuesday, April 24
View photos from Opening Worship.
The 2012 General Conference of The United Methodist Church began with a Native American consecration and blessing of the work space and our time together by Marcus Briggs-Cloud, a member of the Maskoke Nation. As delegates from around the world began their ten days of conferencing, Bishop Larry Goodpaster, president of the Council of Bishops, offered a call to worship that called the delegates to remember Jesus' promise that, "I will not abandon you, all my promises are true." (Watch video of opening worship.)
The service was a blend of many diverse cultures and languages, with songs and prayers offered by people representing most continents, reminding us of the global nature of our church. A very poignant moment was when the Lord's Prayer was recited by the masses, each in his or her own language. Many people in the "Twittersphere" referred to that moment as a "Pentecost" moment, in reference to scripture in Acts 2.
Bishop Goodpaster's sermon, titled "The Radical Invitation," reminded those gathered of Jesus' words to Simon and Andrew, "Follow me." Bishop Goodpaster reminded us that there should be a sense of immediacy as we set out to do God's work that we must be willing to follow where the spirit leads, that "none of us can follow if we are stuck in our seats." 
Keeping with the fishing theme, Bishop Goodpaster challenged us to cast our nets for everyone, not only those that "are like us." He also reminded us that just as Simon and Andrew fixed and mended their nets this is our time to "get together to mend and fix the nets we know as United Methodism."
Delegates were given blue silk prayer mantles made by United Methodists in the five U. S. jurisdictions. The mantles were given as a reminder that throughout the conference United Methodists will be praying for them.
After the sermon, delegates were invited to share in Holy Communion as the musicians ministered in song with music from many different cultures, reminding us that as a denomination we are amazingly diverse, and we celebrate the many ways God is praised. The service concluded with a stirring rendition of "My Hope is Built (On Christ the Solid Rock I Stand)"as the delegates went forward preparing themselves for the upcoming days.
Later in the evening the delegates reconvened in the plenary hall, and Bishop Goodpaster officially called the conference to order. After greetings from host Bishop Timothy Whitaker and other dignitaries, the bishops and delegates began addressing rule changes and amendments.
One major rule change that was enacted last night is expected to save up to six hours of plenary time. The rule concerns substitute motions and how they are dealt with. The Rules Committee proposed and the assembly agreed to no longer follow Roberts Rules of Order (on this issue only). Instead, delegates will immediately debate whether to accept the substitute motion. If the motion is passed, the substitute becomes the main motion and it can be amended before final approval. If the motion is defeated, the original motion remains on the floor for consideration.
In all there were 18 amendments that the Rules Committee was to look at overnight.
Watch live streaming from General Conference by clicking here.
Read the latest news from General Conference 2012 by clicking here.