Kentucky Annual Conference 2010 Afternoon of Service
July 02, 2010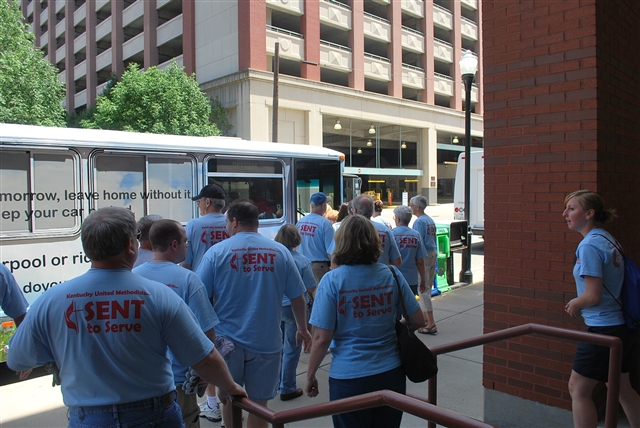 On June 10, over 600 people served in over 30 different locations in and around Covington, touching countless people and blessing them with service. It is safe to say that everyone who participated was blessed in some way.
Rev. Scott Stith, who coordinated the Afternoon of Service, describes the day as "an exhilarating and much needed time of getting out and serving the community as a whole."
He expects that next year the service time will be "even bigger and better," with more people participating in a wider variety of projects.
At least two Kentucky Conference churches have been inspired to take this type of service project into their communities. Rev. Debbie Wallace Padgett at St. Luke UMC in Lexington will preach on service in September and wants to organize a service project for her church. Rev. Kaye Nunn from Radcliff UMC is attempting to organize a quarterly "Afternoon of Service" for the entire church to participate in.
Rev. Stith noted that many people commented on how thankful the recipients of the Afternoon of Service projects were. "From cutting down weeds to giving out bottled water, many people asked who we were and why we were doing this."
(View more photos from the Afternoon of Service here.)
Some numbers from the Afternoon of Service
* Red Cross Blood Drive: 54 Donors, 47 Units of Blood (Each unit saves 3 lives.)
* More than 1155 cans of food were rolled through the streets of Covington to two different food pantries.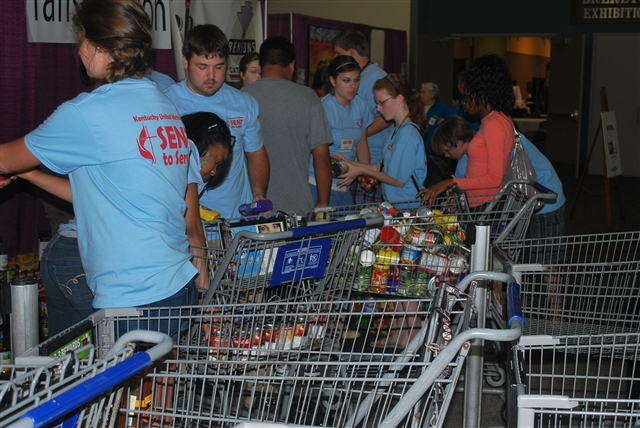 * At Grace UMC
- 150 meals were served;
- Over 1700 bottles of water were given away;
- 85 different families received food from the outdoor pantry.
* At Ida Spence: 200 families received approximately 10,000 pounds of food from the Mobile Food Pantry.
* Six separate Prayer Walks comprised of over 80 people made their way through the streets of downtown Covington.
* 7 different Nursing Homes were visited, and a dozen separate landscaping, yard work, and painting projects were completed. Yards were weeded, windows were washed, rooms were painted and mulch was spread all over the Covington area.
* At the Conference Center
- More than 500 agape letters were completed to be mailed to missionaries and soldiers around the world.
- Almost 1000 Campbell Soup Can Labels were cut, sorted and organized for use by the Red Bird Missionary Conference.
- Almost 50 tote bags were completed to give to local food pantries for food distribution.
- 1733 Health Kits were completed, boxed and palletized for shipping, along with 38 Birthing Kits & 4 Flood Buckets.

- Additional items being shipped to UMCOR are: 7 boxes of soap, 1 full box of toothbrushes, 8 boxes of Ziploc Bags, and 1 full box of washcloths.
- $1,833.50 was collected for shipping and toothpaste.
Additionally, Ida Spence Mission will be receiving 11 boxes of school supplies and 22 boxes of extra health kit items that could not be shipped to UMCOR.
Read participants' reflections on the day here.
---