Reflections on the Kentucky Annual Conference 2010 Afternoon of Service
July 02, 2010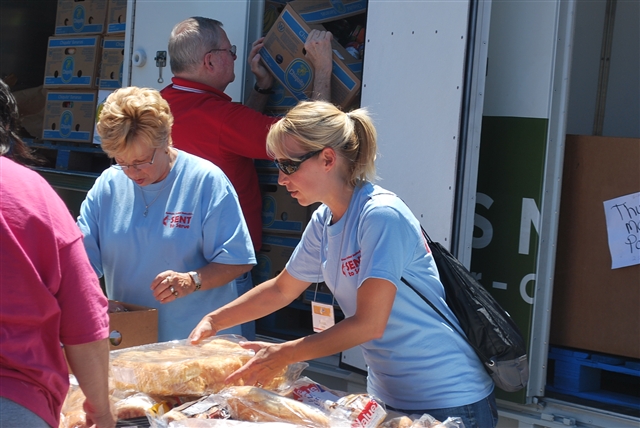 On June 10, over 600 people served in over 30 different locations in and around Covington. Here some of them share their stories from that day.
Jean Ashby, Centertown United Methodist Church (Owensboro District)
I helped with the Campbell soup labels. I met so many nice people from all over the state and we had a great fellowship together--sharing our history, where we lived and so many good things. I was glad to have been a part of the Afternoon of service and thought it was a wonderful way to witness for God's Kingdom. I feel like the people that went out into the city and worked so hard did more then I did--But God appreciates all of our work, great or small.
Michael T. McArter, Pastor, Milton United Methodist (Frankfort District)
Area of Service - Prayer Room
I thought the time of prayer in the prayer room at Conference was a wonderful experience. I felt very strongly a unity in Christ of the participants and the presence of the Holy Spirit. The leadership was excellent and persons were given the spiritual freedom to pray silently or out loud during the time. Moving prayers were offered for the Kentucky Conference and its ministry and mission, for the participants in the afternoon of service, and for the recipients of the ministries that were taking place that afternoon. My reflection on that afternoon is that when we gather together and yield our lives to the work of the Holy Spirit, we make ourselves open and available to the power of God and His will ("Have Thine Own Way"). I sincerely felt that the Lord was at work in my life, in that prayer group, and in what was going on in the Afternoon of Service (and yes, beyond that day). My personal experience was "Be still, and know that I am God" (Psalm 46: 10).
Debra Gaynor, Hawesville UMC (Owensboro District)
This was my first year at conference. I wasn't sure what to expect, but I was honored to represent Hawesville UMC and excited to be a part of the conference. On Thursday, I along with numerous other volunteers participated in Service Projects. My assignment was to give away water. Another lady and I stood on the corner of 5th and Scotts. The sun was shining brightly, it was hot, and I was tired. However, so were the people we met. When the light turned red, I would dart out in traffic handing out ice cold bottled water. The first thing I noticed was the heads that turned to ignore me. It was as if they thought "if we don't see her, she isn't really there." I noticed that people who drive nice cars are more likely to look the other way. It was a bit uncomfortable because I realized that I would have looked to other way also and would have missed the blessing of the thirst quenching water.
There were also those who tried to give a donation. I just told them the price had already been paid and the water was free. Still others wanted to know "why?" I was eager to tell them because "God loves you and so do I." OK, maybe I sounded a little corny to some, but I was filled with the spirit and meant every word.
The real blessings came from the people riding bicycles or walking down the street. We had the opportunity to tell them about the free meal just a few blocks away. We also had the opportunity to pray with a few of them. One lady commented that no one had ever offered to pray with her. We also gave away fresh baked cookies. I will never forget the expression on one young man's face as he ate a sun warmed cookie. He licked the wax paper clean and asked for another. He devoured 5 cookies thanking us between bites.
I began the service project thinking I would be blessing someone; instead I was blessed. The story of the Good Samaritan came to my mind. Many passed by without stopping. I have been that person. I was also reminded that I could only offer a bottle of cold water while Jesus offers living water.
I'm glad I was part of this year's service project, and I look forward to participating in next year's project.
Courtney Spear, probationary deacon, Valley Hope Centre/Vanceburg UMC (Ashland District)
Served at the dinner at Grace
I passed out tickets at a community dinner, right after the participant received a hand sanitizer from a retired elder who was also participating - I felt that it was like passing communion on to these folks - we were, in fact, passing on God to these folks!
Robert J. Stout, Pastor, Mt. Holly United Methodist Church (Louisville District)
(I worked at the Grace campus of Immanuel UMC, both with the unloading of food brought over from the Convention Center in the shopping carts and with restocking food supplies as folks went through the food pantry distribution line.)
The experience at the Grace food pantry was both exhilarating and humbling. It was exhilarating to be restocking tables as people in need came through the line to choose some basic foods. The humbling part was the realization that my participation was for one afternoon, while volunteers are at Grace all during the year helping to feed hungry people. This year's Annual Conference was my favorite of any I have attended, including my ordination years.
Patricia Bridewell, Cromwell UMC (Owensboro District)
I was on the Photo Team and was privileged to observe and photograph not only the activities taking place in the Convention Center, but also prayer-walking groups and three work teams located in Erlanger as well: St Vincent de Paul Store, landscaping and donations organizing; Director's Home landscaping; and Lighthouse Mission landscaping. I saw people working diligently, coordinating efforts. They didn't even stop to pose!
The thanks expressed by those being helped was as awesome as the joy reflected in the eyes of those serving the community. My favorite quote: "You guys are SUCH a blessing!" My response, "Thanks so much for allowing us to be of service!"
Lloyd Spear, Vanceburg UMC (Ashland District)
I went to the Providence Pavillion, taking my guitar. There were about six of us, and we set up in the second floor break room. We did not have much of a plan for the afternoon - figured we would just talk to and pray with the residents. At first, there were five or six residents, all in different stages. Once we got started talking and playing music and singing, we had a wonderful time. More and more residents joined us, until the whole room was filled. We had a couple of daughters come in looking for their mothers, and they stayed to listen and sing. We would talk with each other between songs, sing songs they requested, did a mix of gospel and secular songs - even danced with one of the ladies to "Let Me Call You Sweetheart." It was a fabulous afternoon, ending with everyone praying the Lord's Prayer.

Jorge Aros, Cave City UMC (Bowling Green District)
My project was photo documentation of the Afternoon of Service. I had gotten some shots of the youth loading canned goods into shopping carts and I set out toward Grace UMC when I came across one of the Prayer Walks in front of the United Way center. As they moved on, a voice called out, "Hey! Pray for ME." The group crossed the street to a bus stop and met John England who shared with the group how unusual it was to see people pray in the streets. This in turn had motivated him to speak out. The group laid-on hands and prayed for him, and he in turn asked for prayer for a friend of his. It was truly a "God thing" for all of us, and I thought, "YES! this is the way church should work."
Then the voices of youth caught my ear and I saw the youth strung out in a convoy of shopping carts headed up the street. I went ahead to take some shots and found more people offering cold water and cookies to motorists, and the "Community Meal" and "Food Pantry" signs out at Grace.
That afternoon, the Lord had led me to those extra opportunities and I returned with far more than I had gone seeking. Isn't that the way the Lord always works?
I hung out at the download station then and heard the tales of the five others and saw a lot of beautiful shots from that afternoon. It's unfortunate that all of the story couldn't be seen on the big screen at Conference, but we had been sent to serve as the eyes of Christ witnessing the work of His hands and feet.
Joyce Southgate, Centenary UMC in Lexington
I found the work of the Afternoon of Service most fulfilling and challenging. I worked at the Ida Spence Mission, serving food to approximately 200; the expressions of gratitude and thankfulness made me wish we could be there every week, and it certainly encouraged me to bring the need to "take the church out of the building and into the community" in my report to our congregation.
I appreciated the opportunity to serve.
Beverly Shouse Maguffee, Executive Director, Kavanaugh Life Enrichment Center
I saw God in so many ways that afternoon. I was blessed to be at Grace Church helping to set up for an evening meal, stocking the food pantry, working in the kitchen and then serving during the meal. It was truly an awesome afternoon. What an outreach at Grace Church! It was very exciting when our youth rolled the carts filled with grocery items down the streets of Covington and began their assembly line with us to fill up the pantry at Grace Church.

But the most humbling moment came when I was serving pickles and onions for the meal -- a very weary, street worn gentleman looked at me and said, "God bless you." Whoa! In that moment how greatly I am blessed flooded over me, and that day at Grace Church was one of those many blessings. God was there in the face of that weary, street worn gentleman that day.

Thanks for giving us the best day at Conference.

Sue Roberts, Bagby Memorial UMC (Ashland District)
Ida Spence Mission – Cleaning sanctuary
As I was on my knees cleaning the pews and altar rail, I wondered how many saints had been on their knees praying for their sons and daughters. As the sweat dripped down my face I wondered how many tears I was washing away with my cleaning solution? How many souls prayed through to salvation at the altar rail? As I dusted the multitude of old Bibles that were found there, I wondered how many pastors had read God's Word from them. That is where I felt God that afternoon.
Johnnie Long, Pastor, Clarkson/Little Clifty (Elizabethtown District)
I was in the prayer group during the time of prayer. I can tell you I could feel the Lord's presence in that room and in my heart. We prayed for many thing, but we prayed for the people that were doing each task and for the people that each care package would touch from the people that were making them to the person receiving them. We prayed for the letters that were written to the soldiers and missionary that received the letter. We prayed for the people that was out in the community that they would touch their souls.
All in all it was a great experience.
Connie L. Mitchell, Pastor, St. Paul UMC, Paris (Lexington District)
I saw at Grace United Methodist Church just what I see in Bourbon County when I work at Operation Food Basket. I saw the Lord of God in the eyes of those being helped. Their eyes said, "Thanks for taking the time." "Thanks for treating me with kindness, respect and dignity." "Thanks for including me and giving me a seat at the table."
Fran Denham, Maysville Trinity UMC (Covington District)
During the annual conference afternoon of service, I helped put together health kits. It was a wonderful afternoon and I pray we do it again next year. I have served on Volunteers in Mission teams where we have followed natural disasters such as Honduras after a hurricane and El Salvador after an earthquake, so I understand the importance of health kits and how they can change lives of those suffering. So gathering up the items and putting them in baggies may seem unimportant; however, when we prayed over each health kit; praying for those receiving the kits, we did the impossible…we reached out to folks we will probably never know and we showed them the love of God. Only God can make that possible!
Martha Walker, Georgetown First United Methodist (Frankfort District)
I thought the Afternoon of Service was a great idea. The services chosen were well thought out, and I enjoyed doing something different at Conference. I was in the group fixing the health kits. Good idea and well planned. Everyone in my group seemed to enjoy the service time.
Also liked the idea of going out into the community to help others. Someone may have been touched by the efforts, and a soul may have been won for Jesus.
Bruce Arnett, St. James UMC (Bowling Green District)
My job was to separate bars of soap so that only one bar could be put into each health packet. If I heard correctly, we were able to complete approximately 1200 packets! I am so proud of our Kentucky congregations! We had fun and performed a great service, and I look forward to next year.
Mickey and Shirley Bradshaw, Carthage UMC (Covington District)
We spent the afternoon at Ida Spence mission passing out food. Even though we are from Covington District, we had not visited Ida Spence before. It was a wonderful experience meeting and talking to people, especially the children. I was very touched by the idea that United Methodists were all over Covington working at the same time. Can't wait to see what we can do next year.
Vicky Meister, Carrollton UMC (Frankfort District)
I thought the Afternoon of Service was the best thing we've done at Conference since I have been attending for the past 5 years. The people at Brighton Center were very appreciative of our help, and I was amazed at how much we accomplished in such a short time. Made me realize it wouldn't take much for a small group to do similar activities in my own community. Our Church Health Team is using 101 Ways to Reach Your Community to revitalize our church.
When I gave my conference report to the congregation the following Sunday morning, I wore my shirt. Following worship I did some shopping locally. Several people stopped me to take a closer look at my shirt. One in particular tugged on my sleeve and said, "What your shirt says-I love that!"
Afternoon of Service Statistics
---