Bishop Davis Reflects on General Conference 2012
May 09, 2012
Having survived General Conference 2012 I am glad to be back in Kentucky. I am convinced now more than ever that the renewal of the church will not come through our human efforts to legislate, restructure or manage our resources. Renewal of the church comes only from our prayerful listening to the Lord and our obedience to the movement of the Holy Spirit. Ninety-nine percent of what is needed in our church must happen at the local church, district and annual conference level anyway.
Most of us left Tampa with varying degrees of frustration. Our General Conference system is highly resistant to change. In some way, maybe that is good. But I cannot help but feel that a legislative model governed by "Robert's Rules of Order" makes it virtually impossible for "holy conferencing" to take place. I am confident that John Wesley would not, at times, have recognized what we did as holy or conferencing. Nor were we always especially loving toward one another. More than I can recall, it seemed that the agendas and strategies of the world were transforming us rather the other way around.
But I am a child of God, who forgives and restores, so after a few days of rest I am ready to acknowledge the good things that happened and to engage the work we have left to do here at home. So I am counting my blessings today.
1. Our delegation was faithful to the end. The folks who represented Kentucky and Red Bird were active leaders in the process of General Conference and served us well. Farley Stuart was elected as Secretary of the Interjurisdictional Episcopal Committee, and Bill Arnold was elected to serve on the University Senate.

2. Two choirs from Kentucky brought joy to our worship. The Cardinal Singers from Red Bird and the Kentucky Wesleyan Choir were fantastic. They were the best of the best.

3. Although the restructuring proposals were eventually ruled unconstitutional, I am grateful that there is a clear desire in our church to adjust our approach to ministry so we might develop more vital, healthy local churches. There is fresh energy about being a more faithful connectional church. But most of that energy needs to be lived out in our annual conference and districts. Nothing is stopping us from doing better than we have done. I am not interested in mere denominational well-being and effectiveness. I am fundamentally interested in sharing the Good News of Jesus Christ so that people's lives are transformed. Transformation of communities in our world always begins with changed lives. Our task is to bring people into the spiritual disciplines of the Christian life so that they can provide a witness which changes the world to be more like Jesus. The church exists not for itself but to save the world.

4. I was greatly encouraged by our delegates from outside the United States. They were more actively engaged in our conversations than ever before. Their statements of deep faith and biblical orthodoxy save us from ourselves. Their perspective is non-western but very Wesleyan. We need to listen more carefully to what these sisters and brothers are trying to tell us.

5. Our General Church budget is smaller, thus driving more financial resources back to annual conferences and local churches. Will we be good stewards? I also hope that our General Church agencies are understanding the message of General Conference. We need these agencies to continue to reform themselves. Four more years of business as usual will not be acceptable. This need for reform is nowhere more noticeable than in the Council of Bishops where our failures of leadership can do much harm to the church.

6. With the change in guaranteed appointment for clergy, I am encouraged that we are seeking better ways to appoint clergy for the missional needs of the Church. Although the Judicial Council still has to review the legislation to see if it passes constitutional muster, we will need to be involved in a conversation over the next year about the criteria for full-time appointment of elders. There is no need to move quickly here and we do not want to implement a system which is unfair, but I am confident that we can reach some understandings about our clergy covenant which will bear good fruit for the Kingdom.
Well, I look forward to the Red Bird Conference next week and to the Kentucky Conference in June. See you there.
Lindsey
Read Bishop Timothy Whitaker's (Florida Annual Conference) thoughts on the 2012 General Conference by clicking here.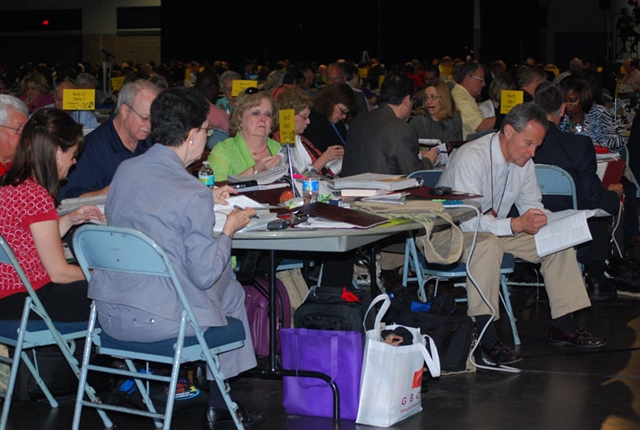 Delegates study petitions during a General Conference plenary session.
Photo by Cathy Bruce.
---