2012 Annual Conference Monday
June 11, 2012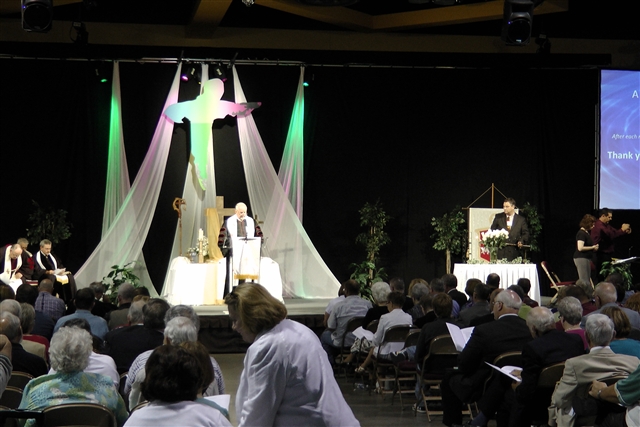 Service of Remembrance
"Called by Christ, Sent to Heal" is the theme of this year's Annual Conference. With a focus on health and well-being, the day began at 6:30 a.m. with a 30-minute health walk. A group will walk every morning during Conference.
The Laity Session and Clergy Executive Session met in the morning. Conference lay leader Carol Ackley led the Laity Session, which included an update from each district lay leader. This marks Carol's fourth and final Annual Conference as lay leader.
At the Opening Worship service, Bishop Lindsey Davis gave a message titled "Sent to Heal." He praised the work that various ministries are doing throughout the connection. Bishop Davis and visiting Bishop Charlene Kammerer of Virginia served communion along with the 12 district superintendents and 12 district lay leaders. The service also included a time of remembrance of clergy and clergy spouses who have passed away since our last Conference. Twelve deceased clergy and fifteen deceased spouses were honored, along with the late Bishop Paul Duffey, who was a former Louisville and Kentucky Conference bishop.
Business at the organizational session included setting the bar of the conference, electing assistant secretaries, and the first readings of the budget and nominations. Rev. Dr. Debbie Wallace-Padgett and Carol Ackley, surrounded by other members of the Kentucky General Conference delegation, gave the General Conference report. Bishop Davis expressed appreciation for the hard work and dedication of the delegation.
Conference members took a stretch break, led by two counselors from Camp Loucon. It was a song with motions, "Our God Is So Big," that the young campers sing.
Rev. Randy Coy, President of the Kentucky United Methodist Homes for Children & Youth (KYUMH), discussed a proposal for the future of KYUMH. The Home is seeking to help families as a whole, not just the children. He talked about one of the young people helped by KYUMH and how her case worker helped give her a vision of her future and education.
"I want to join you in being a visionary to do a new thing so the world may know that we are all about healing," Rev. Coy told the Conference.
Kaity Young presented the Ministry with Young People report. A video featured activities like Winter Blitz, A Morning with Bishop Davis & Confirmation Students, Bluegrass Conspiracy (mission trip to Honduras), and Youth Discipleship Retreat.
Covington District Superintendent Kevin Burney made a special presentation to Bishop Davis, a pair of Converse shoes custom decorated by the youth delegation. There was one catch, however. The Bishop and Cabinet were asked to "pay" for the shoes by making donations to help with a project to build a school for children in Carmizuelar Village, Honduras. With many people pitching in, $2,500 was raised for the cause.
During the presentation of the Board of Trustees report, the Conference approved recommendations for distribution of earnings from the Eastern Kentucky Health, Education & Welfare Fund.
Mark Shepherd, a member of the Conference Children's Ministry Team, told Conference members about the Change for Change table. He encouraged people to drop their change into the containers to help raise money for Children & Poverty grants.
The evening was highlighted by the Service of Ordination and Commissioning. Bishop Kammerer preached on the Emmaus story from Luke 24. She spoke of "Finding Jesus in Unexpected Places."
"The good news of Jesus Christ always comes to disappointed, unexpecting people," Bishop Kammerer said.
Eleven provisional members were commissioned: Christy Allen, Jeffrey Bramel, John Choi, Geoffrey Egbers, Anthony Franklin, Shea James, Rebeccia Howard-Loy, Tina Patterson, Jill Ruhl, Kevin Stamps, and Michael Sweeney. Cynthia Bright, Courtney Spear, and Nancy Speas Hill were ordained as Deacons in full connection. Wayne Burt, Michael Coppersmith, Kevin Griffin, John Kalz, Loletuth Kalz, Judith Ransbottom-Stallons, and Craig Tuck were ordained as Elders in full connection. Michael Adkins was recognized as an Associate Member, and David Oliver's orders from another denomination were recognized.
The evening featured wonderful music: the singing of hymns by the congregation and selections from the Kentucky Wesleyan Singers.
Additional Photos from Monday
---