2012 Annual Conference Tuesday
June 12, 2012
The day began with the morning devotion from Rev. Mark Windley, pastor of Amazing Grace Community of Faith (Louisville District).
At the morning plenary session, Rev. Darren Brandon of the Retiree Health Care Task Force presented the retiree health care plan proposal. It dealt with the $53 million unfunded liability for retiree health. The six proposals to cut this liability in half as "a first step" passed the Conference.
Rev. James Williams, chair of the Conference Evangelism Team, recognized churches with the most professions of faith: Hope Springs (Lexington District), Immanuel (Covington District), California (Covington District), Glens Fork (Columbia District), St. John (Louisville District), Worthville Dean Memorial (Frankfort District), and Auxier (Prestonsburg). He also presented the Denman Awards for Evangelism. The clergy award went to Rev. Aaron Mansfield. In his first year at Morehead UMC, there has been an almost 14% growth in attendance. Michael Powell received the laity award.
The Culture of the Call Award was given to Middletown UMC (Louisville District). The church's culture springs from the belief that God is active in our daily lives as well as in the world. The church is assisting 11 people under age 35 in the call to ministry.
Bishop Davis noted that in 2011 the Kentucky Annual Conference grew by almost 1,000 members. Some of this can be attributed to people showing faith in daily practices. Part of it is from people recommitting themselves to draw people into a community of faith.
In the New Church Development report, Rev. Karen Stigall talked about planting new churches and said that the growth the Conference is experiencing is directly related to our new churches. A video featuring Conference new church planters was presented. The pastors were Anthony Everett of Nia Community of Faith (Lexington District), Iosmar Alvarez of Hope Springs and Embrace (Lexington District), Brian Ebel of Revolution (Louisville District), Matt Johnson of The Community (Covington District), Wade Arp of London First (Corbin District), and Rosario Picardo of Embrace (Lexington District).
Rev. Paul Brunstetter, NCD Director, told the story of a young man who reached a new clarity about Christ after a discussion with a member of The Community and Rev. Matt Johnson. He expressed gratitude for new churches that have given 13% of professions of faith. The dream and plan is to start 40 new faith communities over the next four years. People from around the Conference will be trained as coaches, and we will work through the districts for these church plants.
Aldersgate Camp Director Rev. Lee Padgett led a stretch break, and Conference members sang and stood for "Hallelujah! Praise Ye the Lord!"
In a video, Rev. Sherri and Mike Morrissey, missionaries to Thailand Methodist Mission, thanked the Conference for their generosity in supporting the Mission's pastor training program. The Mission was one of the recipients of the 2011 Mission Offering.
Rev. Dr. Warren Lathem, president of Seminario Wesleyano de Venezuela, expressed appreciation for last year's Mission Offering contributions to the seminary. The money added 15, 000 liters of water storage at the seminary, started an extension program with students planting new congregations, and provided for a new Masters program beginning in January 2013. Part of this year's Mission Offering will help build a medical clinic on the seminary campus.
Tonya Asher from Red Bird Mission talked about MIHOW (Maternal Infant Health Outreach Worker). This program, which is through Vanderbilt University, provides nutrition and supplies for expectant mothers and newborns. Through MIHOW, Red Bird is able to change people's lives, both employees and those they go and visit. Many of the children go into other Red Bird Mission programs and the Mission School. This helps to form Christian leaders in the Appalachian Mountains.
Jim Morse, Conference Disaster Response Coordinator, talked about the Conference's ministry following the spring storms. He thanked those who have given time and money to disaster response. Local congregations are first responders when disaster strikes.
"West Liberty suffered the loss of the church building, but the church is alive and working," Morse said to applause.
Bishop Davis said that over $280,000 was received in special offering this spring for disaster response.
Rev. Farley Stuart, Corbin District Superintendent, talked about Impact Kentucky: Hope Reigns. Over 900 people participated in Impact Appalachia last year. This year on August 25, we will be serving in areas touched by spring storms. Rev. Stuart encouraged people to sign up at impactkentucky.org.
Hundreds of United Methodists went out to 18 different places in the Covington community and into various areas of the Convention Center for the Afternoon of Service. Projects included nursing home visitation, passing out water, preparing and serving a meal, landscaping, health kit assembly, a blood drive, and prayer walks. This is the third year in a row we were "Sent to Serve" during the Annual Conference.
At the Mission Night service, Bishop Davis announced that over $11, 000 has been raised so far toward building the kindergarten in Honduras. The altar flowers at teh service were donated by the family of Helen Hieronymus, laity from Somerset First, in her memory.
Dr. Lathem preached on Acts 13:1-3 and how we are all "Sent." Everyone has a mission from God, he said, and some people are called beyond their own culture for that mission.
"The same Holy Spirit who spoke to the church at Antioch," said Dr. Lathem, "speaks to the church today."
Those attending the worship service brought their donations for the Mission Offering forward as everyone sang "Halle, Halle." Money raised will be divided between a medical clinic at the Wesleyan Seminary of Venezuela and MIHOW programs at Henderson Settlement and Red Bird Mission.
Additional Photos from June 12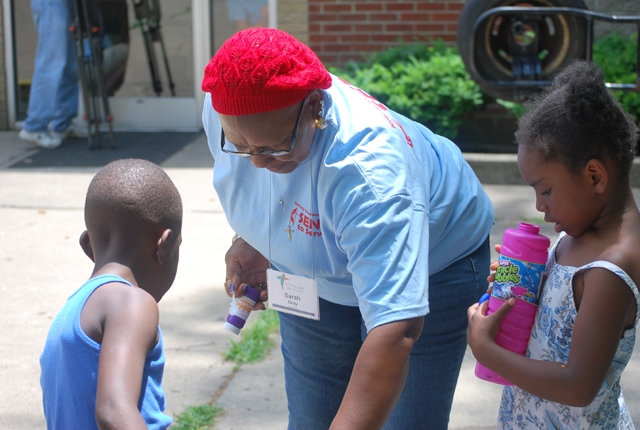 Afternoon of Service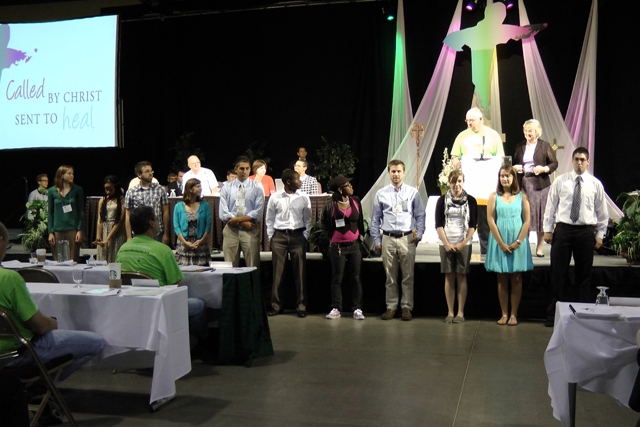 Isaiah Project interns
---