2012 Annual Conference Wednesday
June 13, 2012
Rev. Dr. Iosmar Alvarez gave the morning devotion on 2 Peter 1, talking about the need for disciples to have faith, goodness, knowledge, self-control, and perseverance.
"I've heard more passionate discussion about guaranteed appointment than about discipleship," said Dr. Alvarez. "If you have a divine calling from a divine God, you have an appointment guaranteed."
The morning plenary began with reports on offerings taken at the Conference. Michael Watts reported that $3,508 was collected for the Isaiah Project at the Ordination Service. About $70,000 was collected in the Mission Offering, which will be divided between a medical clinic at Wesleyan Seminary of Venezuela and MIHOW programs at Red Bird Mission and Henderson Settlement. Jennifer Davis reported that over $11,000 has been raised for the Honduras kindergarten. It is enough not only to build the school but also to provide desks and books.
The session included the Board of Pensions report. Dr. Kenneth Peters and Rev. Rob Moorlach discussed the proposed changes to the health care plan. The Board made recommendation to replace the current health plan for actives and retirees under age 65 with a Consumer Directed Health Plan (CDHP) to take effect January 1, 2013. The report was approved.
In the Higher Education report, Dr. Cheryl King recognized the Conference campus ministers and Wesley Foundation directors. She also thanked David Sparks for his work with the Higher Education Team. Dr. King introduced the Kentucky United Methodist college presidents: Dr. Marcia Hawkins, incoming president of Union College who was not present; Dr. William Luckey of Lindsey Wilson College; and Dr. Craig Turner of Kentucky Wesleyan College. Dr. Turner brought greetings from the three colleges. He asked for the Conference's prayers as they seek to prepare young men and women for the future.
Bruce Nettleton presented resolutions and petitions. A petition regarding a line item veto for church benevolences was ruled out of order and not voted upon. A resolution on payday lending was passed. It asks the Kentucky Conference to encourage state and local governments "to restrain exorbitant interest by establishing a cap of thirty-six (36) percent for all small loans and any other protections necessary to protect individuals from lending abuse." A resolution on dropping the I-word was also approved. This resolution encourages people not to use the word "illegal" to describe people.
Kevin Burney gave a report on the Afternoon of Service. Over 760 people worked on projects. Sixty-one pints of blood were donated, and 1237 health kits were completed.
Eliseo Mejia spoke about Kentucky Conference Hispanic churches and introduced the pastors of those churches. As we continue to plant more Hispanic churches in the Conference, Rev. Mejia said, "I believe God has in store for us more and even greater things." Bishop Davis prayed for the pastors and the people they serve.
At the Retirement Service, the Conference recognized clergy who have served for 25 and 50 years with Silver and Gold Anniversary Certificates. We celebrated the clergy retiring this year: Donald Barnett, Ronald Berry, A. Wayne Bishop, Dennis Burrows, Mark Fentress, Lanny Garner, Henry Harrison, Charles Hatfield, Kenneth Jett, Garry Jones, Art Leach, J. Robert Morris, Audrey Myers, Larry Nichols, Susan Skaggs, and Raymond Snider.
Dr. George Strunk presented the Commission on Finance and Administration (CFA) report. Policy changes in the report were approved. A motion to decrease district superintendent and Conference director salaries was defeated. The budget for 2013 was approved.
Rev. Dale Carden, Dean of the Cabinet, presented resolutions for six church closings and one merger for this year.
Bishop Davis announced that the Kentucky Annual Conference will be back in Covington for the 2013 Annual Conference on June 10-12.
Following the setting of the appointments for 2012-13, the Kentucky Annual Conference was adjourned.
View more photos from Wednesday.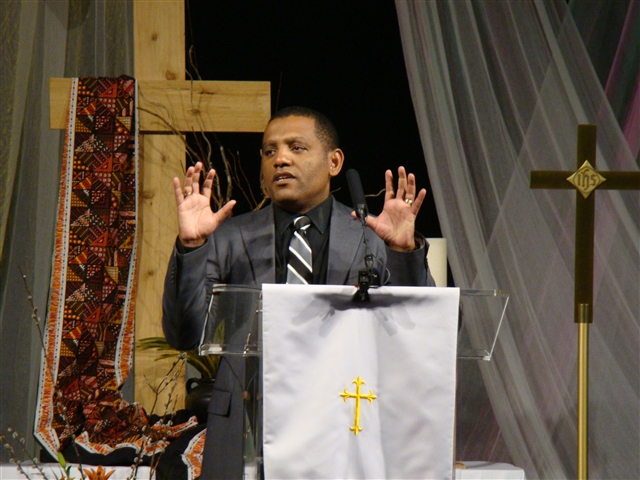 Rev. Dr. Iosmar Alvarez gives the morning devotional.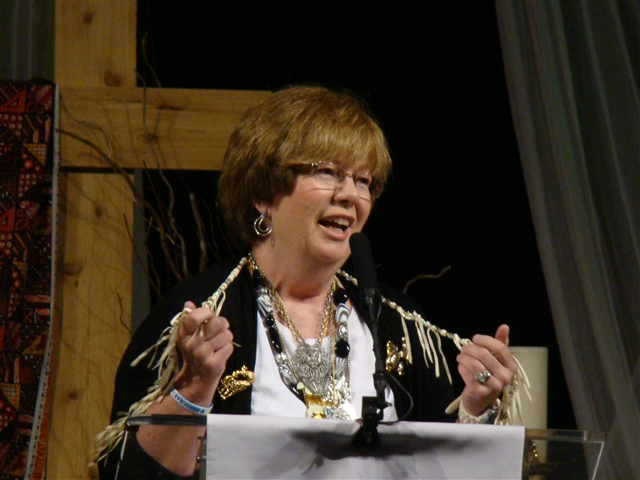 Jennifer Davis shows off some of the "bling" that was sold to raise money for Honduras.
---